The week of exchange has ended in VMU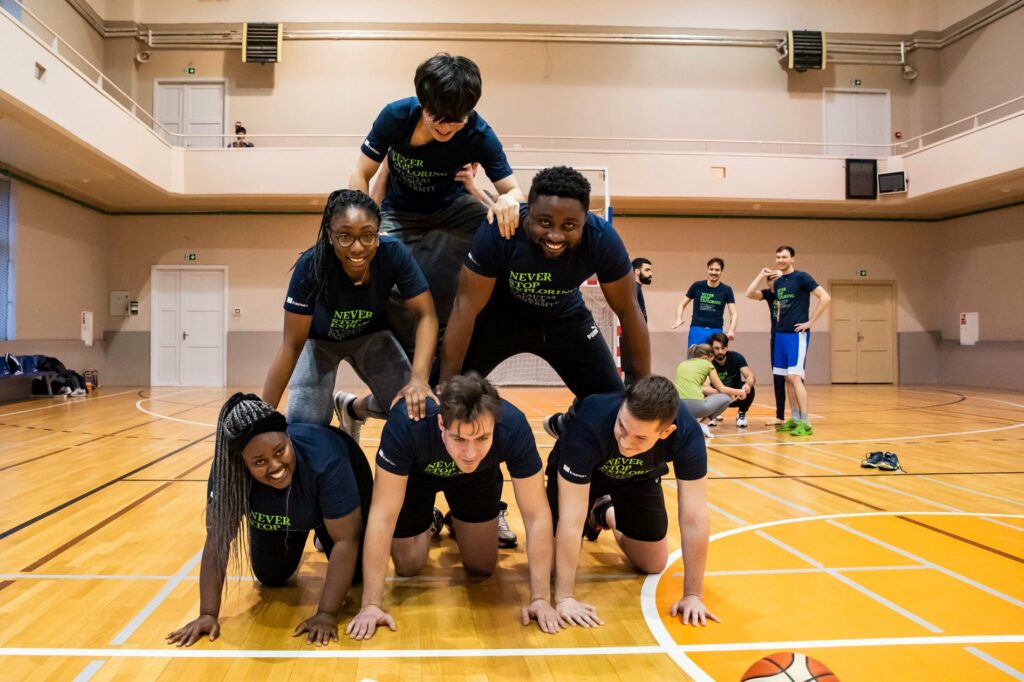 Last week, VMU's International Cooperation Department organised Erasmus+ week designed to promote exchange opportunities abroad. Not only students could discuss their future travels over a cup of coffee with VMU employees, choose the destination during the travel fair, they also watched a movie about the origins of Erasmus+ programme, exercised to lift their luggage at VMU sports centre, but also demonstrated their knowledge and creativity in the trivia quiz and open mic event. The entire week ended in the "Take-Off" event designed to present the students with the benefits of the international experience and other activities that bring joy to our life.
So, the event on February 20 was full of interesting conversations, laughter and meaningful ideas. The event started from a discussion of the international experiences and their benefits for everyone: from those who embark on them to those who wait for them to return with all the knowledge and experiences they bring back.
The discussion on this topic was held by Mr. Arnoldas Pranckevičius, Head of the European Commission's Representation in Lithuania, Mr. Rytis Zemkauskas, Associate Professor at VMU, also a journalist, producer and the Renaissance man in general, Mr. Andrius Sankauskas, VMU alumnus, Attaché for Commercial Affairs in the Embassy of the Republic of Lithuania to the People's Republic of China, Republic of Korea, Mongolia and Socialist Republic of Vietnam.
Mr. Prankcevičius claimed that the most memorable international encounter was when he was a sixteen-year-old, who arrived to study at New Jersey, the Montclair Kimberley Academy, and the first book he was assigned to read was Upton Sinclair's Jungle about a family of… Lithuanians who came to the USA one hundred years ago. These and other cultural shocks, according to Mr. Pranckevičius, push our limits and teach us how to appreciate other views. As he also added jokingly, Europe herself was the first migrant of Europe, as she was stolen by Zeus and brought from the Northern Africa to the island of Crete.
Rytis Zemkauskas said that the value of travels is that they bring people out of their social bubble which will never expand our circles and make us as curious as travelling does. He also recalled a recent story of being stranded in London due to Storm Ciara, and finding a book by a poet from the North Korea in one bookstore, saying that such cultural encounter with a poet whose works where smuggled from his country would not be possible otherwise.
Andrius Sankauskas said that the first meeting with a foreigner that made great impression on him was the one with… his mother, as she is of Russian ethnicity. She encouraged her son to take every opportunity to travel available to him and thus inspired to go to study and do an internship abroad, which widened his horizons and contributed to the openness for new things and diversity of cultures and countries.
The musical guest of the evening Šarūnas Joneikis (vocalist of band Garbanotas) also shared stories about his exchange experiences and performed wonderful dreamy tunes that carried the guests of the evening across time and space.
And for those who are not brave enough to go to the faraway countries (yet!), another guest of the evening, Ms. Ugnė Nedzinskaitė, physiotherapist and canine therapist, told about volunteering opportunities. She's been working in this field for 10 years, and her vast experience and the great need for such work perceived resulted in a social business, Stebuklingi Draugai (Magic Friends). This organisation features education and therapy assisted by experienced pet therapists: dogs, cats, donkeys, goats, horses and hens. This evening, Ugnė was also assisted by her canine colleague Dodis.
The evening ended with awarding the winners of initiatives that went on the entire week: Erasmus+ slogan competition was won by a student Edgaras Dambrauskas and his entry "Studies abroad – enjoy the difference". The winners of the trivia quiz and the open mic also received their share of 15 minutes of fame.
Every year, over 300 VMU students leave for internships and studies and even more come to VMU. Those who want to know more about exchange and practice opportunities abroad, please contact VMU International Cooperation Department by email at international@vdu.lt, paying them a visit at V. Putvinskio g. 23, 2nd Floor or in the next, hopefully by then traditional, Erasmus+ Week.
More information about current Erasmus+ exchange calls: